For Those Who Considering to Implement Biogas Power Plant
INTRODUCTION TO BIOGAS POWER GENERATION


Classic Yet New → Biogas Plant from Scratch

Biogas is a gas that is produced by biomass. Biogas is generated by decomposing biomass (organics and living orgasm) by microorganisms without oxygen.
50% to 70% of biogas is composed by methane and 30%-50% is CO2. "Biogas Power Generation Plant" uses this methane gas as a combustible fuel and generate the power. There are other ways of using methane as energy source to generate steam or hot water as heat supply, and we call all of such facilitiescollectively as "biogas plant".
Microorganisms decompose biomass
Microorganisms generate biogas
Combusting methane from biogas and generate power
In addition, there are other ways of using methane to generate steam or hot water as heat supply.
Collectively we call all those power generation system as biogas plant.
For a standard biogas plant, there are four main processes.
Receiving/Crushing/and Separation of the Waste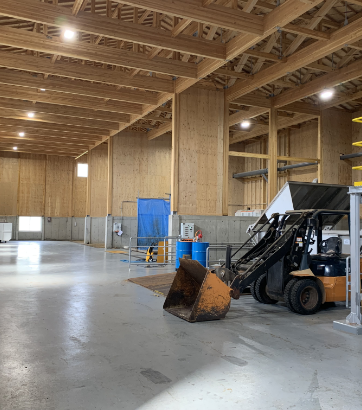 The base material of biogas is organic waste. There is a variety of waste such as food residues from the food factories, food waste from convenience stores and individual households, sewage sludge from sewage treatment facilities, and manure from livestock farms. All of those are biomass. However, depending on their size and properties, biogas production and generation speed are different. Therefore, it is significant to perform material analysis at the primary stage. In addition, we eliminate extraneous materials such as plastic bags, and separated organic materials are crushed and mixed with water and make sludge flowing to the fermentation tank.
Anaerobic Digestion Process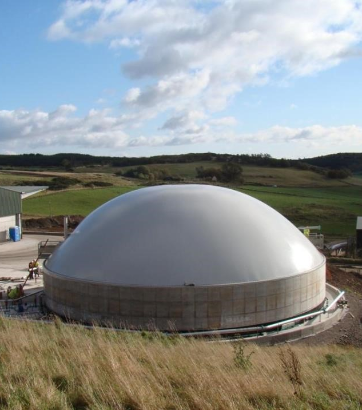 Sludge is now sent to a fermentation tank. Inside the tank, the temperature is kept around 35 degrees, the feedstocks are stirred into sludge and properly mixed, fermentation advances by works of various microorganisms, and produce biogas. The bacteria to generate biogas is called methanogens. For methanogen to work effectively, it is critical to monitor ammonia concentration levels and alkalinity. Generated biogas needs to be purified as gas contains toxic H2S. Biogas is once stored at the gas holder and sent to a gas engine.
Biogas Utilization Process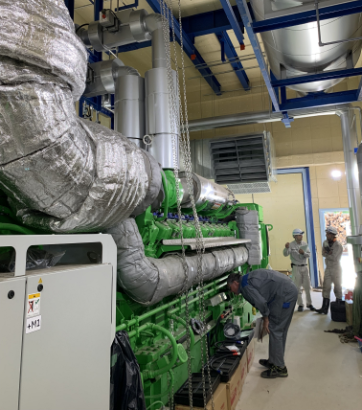 Biogas can be used as a heat supply by producing steam and hot water by a boiler. It can also produce electric power using the gas engine.
There are cases of cogeneration systems combining both heat and electricity supply.
We can apply FIT (Feed-in-Tariff) to the power generated by biogas and sell the electricity at 39 JPY/kWh (in Japan) as of the year 2020.
Fermented Fraction Treatment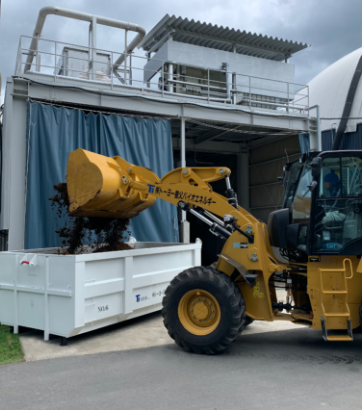 After biogas is generated, the remaining in the fermentation tank are digestate and solids. Those can be fertilizer (liquid and solid) because they are rich in organic nutrients and sprinkle on the farmland. In case of no outer source available for the sludge utilization, waste water treatment is operated and discharged to sewage or used for dilution in fermentation tank.