WHAT'S YABU


YABU CITY, HYOGO is…

designated as a National Strategic Special Zone that aims to recreate the local community in September 2014. This area is surrounded by hill and mountains.Llivestock industry is thriving, and is also known as the birthplace of the broiler industry.
We took particular notice of Yabu city and built a biogas power plant in this city. This area is also selected as a biomass industrial city in 2018 by the Japanese government.

TOYO BIOMETHANE GAS


TOYO BIOGAS POWER GENERATION PLANT

Toyo Biogas Power Generation Plant is a wet mesophilic anaerobic digestion power generation facility. This facility generates power by anaerobic digesting livestock manure and food residues, yield biogas and use it as a fuel for gas engine.
Livestock manure and food residues are collected locally in and out of Hyogo prefecture, also contributing the manure and residue treatment for the local community.
Digestate produced as byproduct after generating the power is high in quality and less expensive organic fertilizer. It is used for the specially cultivated rice and vegetable farming.
| | |
| --- | --- |
| Name of the facility | TOYO BIOGAS POWER PLANT |
| Location | Oyabu, Yabu city, Hyogo |
| Area | Approximately 9,000m2 |
| Power output | 1,426kW (For approximately 1,800 general households) |
| Feedstock | Livestock manure, Food residue, Plant oil |
| Receiving volume | Max. 70t/day |
| Power generation method | Wet mesophilic methane fermentation power generation method |
| By-product | Digestate and organic fertilizer |
| Commercial Operation Date | March, 2019 |
| Operated by | TOYO YABU BIO ENERGY CO., LTD. |
| Main contractor | TOYO CONSTRUCTION CO., LTD. |
| Engineering and procurement | TOYO ENERGY SOLUTION CO., LTD. |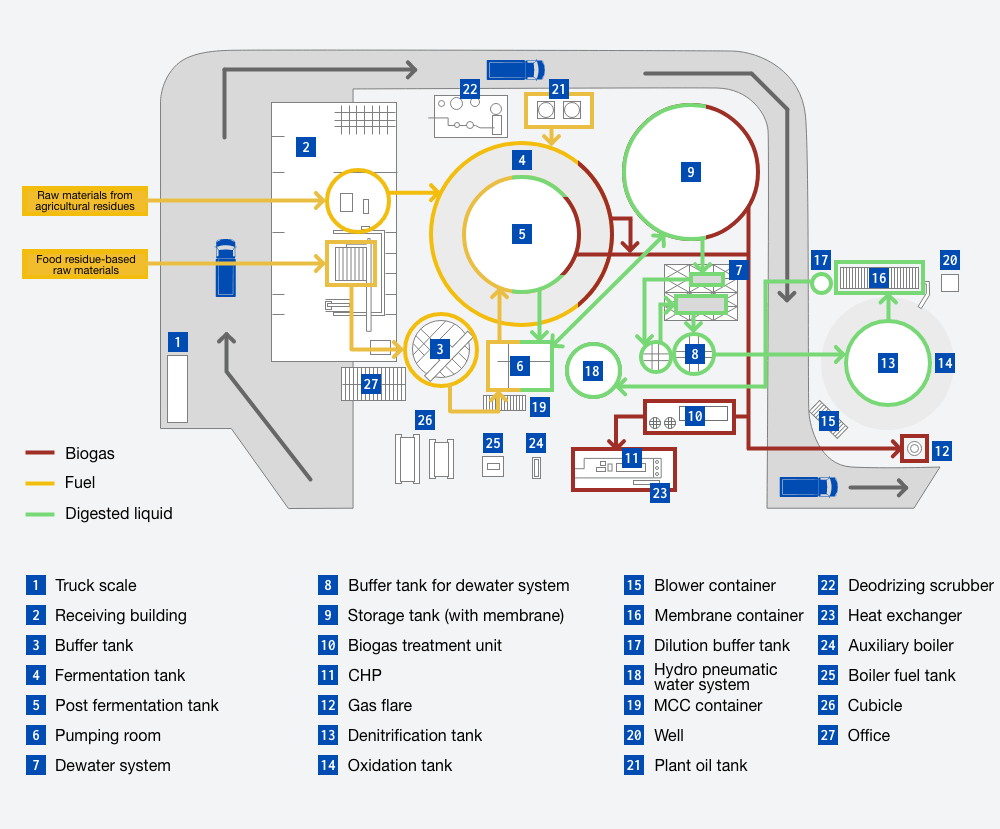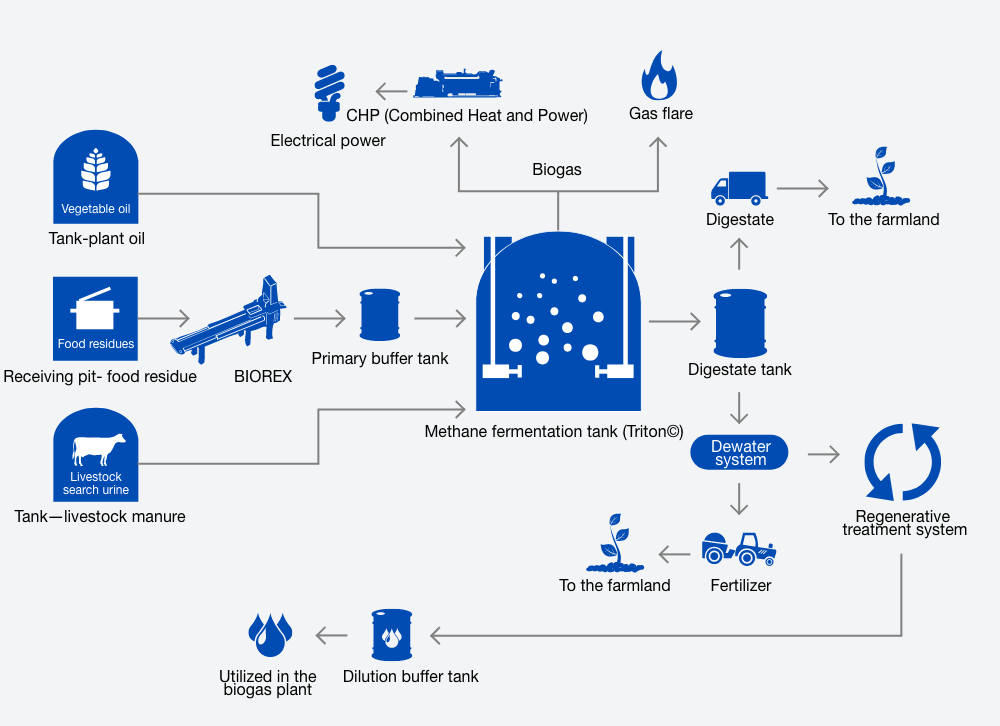 When livestock manure and food residue are left in an anaerobic state (without oxygen), decomposition progresses due to active microorganisms and produce biogas. It is called anaerobic digestion. About 50%-70% of the biogas is composed of methane and combust with a gas engine, yield electric and heat energy. By-products such as digestate and fertilizers can be given back to the farmland, promote the recycling-based society. We also use the regenerative treatment system that saves water resources such as underground water.
FEATURES
It can utilize various feedstock such as livestock manure, food residues.

Even if foreign matter such as plastic / metal / ceramic / bone / cardboard is mixed in anaerobic digestion process, it can be processed without any problem.

High percentage of poultry manure is usually hard to treat. We feed high percentage of poultry manure as feedstock.

24 hours 365 days operation.

Excess waste water is used as regenerative water.

One of the largest power generation facilities in a methane fermentation facility operated by a domestic private company.

An analysis room was set up in the plant to thoroughly manage fermentation / biological treatment and collect data.

Experts are always monitoring remotely.


(Tokyo, Singapore, Italy)
FACILITY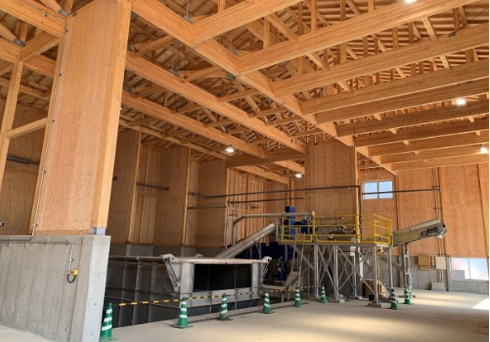 secures a pillar span of up to 13.25m using the wooden truss method and realized a large space with an indoor height translation of 7m.
Technical Flow and Equipment
The feedstock is measured at a truck scale and sent to a receiving facility that secures a pillar span of up to 13.25m using the wooden truss method and realized a large space with an indoor height translation of 7m.
Food residues, livestock manure, and plant oil are treated using three types of receiving tanks, respectively.
A dedicated hopper equipped with a specific axis receives food residues, separate them into inorganic and organic substances. Organic substances are sent to the primary buffer tank. Livestock manure is sent to a concrete receiving tank with a lid equipped with an electric mixer installed in the base plate. It will be stirred vigorously adding diluted water there and sent to the fermenter.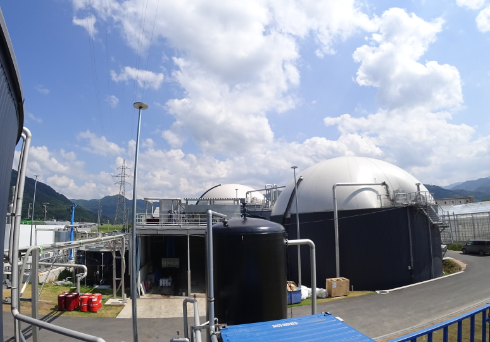 Fermentation Process
Fermentation tank is a double-columned facility that is equipped with service box and electrical mixers. It is made by Anargia and called "Triton".
It uses heated water from the gas engine and co-generation water jacket, maintain the fermentation tank temperature between 35℃ to 38℃.
As service box is equipped with upper section of each mixer at the ceiling of fermentation tank, thus operators do not have to enter inside of the fermentation tank but can adjust mixer's height and angle from outside.
Also, fermentation tank is equipped with a double membrane gas holder to store biogas. The outer membrane is a climatic layer and is constantly expanding, and the inner membrane moves up and down according to the differential pressure between the upper part of the fermentation layer and the inner part of the inner membrane.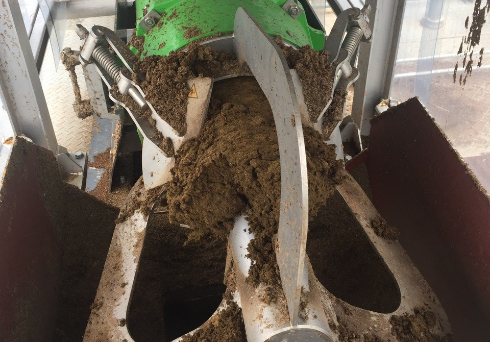 Dewater System
Digestate is separated into liquid and solids by two steps dewater system. Liquid portion produced from the primary dewater system is pumped to buffer tank. It is estimated that this system will recover more than 90% of total suspended solids (TSS) in the digestate.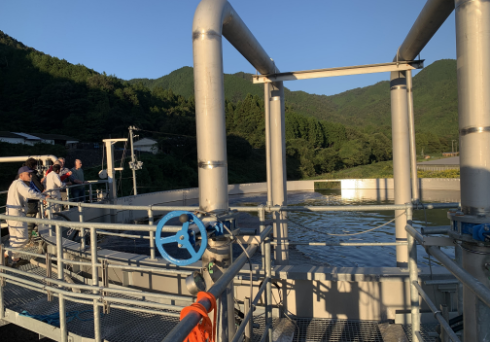 Circulating Water Regeneration
The liquid fertilizer after solid-liquid separation is biologically and physically regenerated and used as raw material dilution water and it will be reintroduced to a fermentation tank.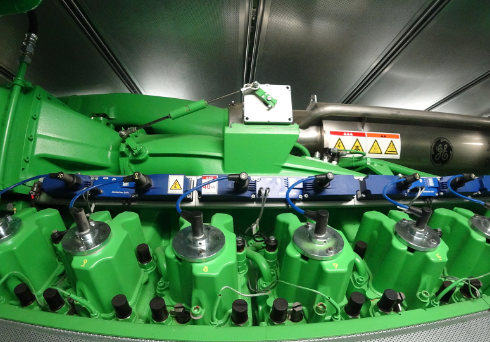 Combined Heat and Power(CHP)
The power generated by the combined heat and power system (CHP) is connected to the grid and sold to the local power company. The heat generated by the combined heat and power system (CHP) can also be used as a heat source for maintaining the temperature of the fermenter or as a heat source for plant factories and other facilities.